CUSTOMIZABLE TO YOUR SPECIFIC IT ENVIRONMENT EASY-TO-USE AND RELIABLE !
A solid state hardware appliance based on the same code used by leading MNCs.
Tailor-made to customer needs: Low overheads, ensures optimum usage of all the features.
All features have 100% utility value; no feature lying unutilized.
Involves low initial cost. Not proprietary, hence lower TCO (Total Cost of Ownership).
Runs on a platform that is easy to maintain and service; spare parts are readily available.
Easy to use: No user restriction or licensing necessary
Easy to operate via a single button; can be administered via a web console.
Result-oriented: All the policies are coded and the result are seen almost immediately.
Guarantees safety: In these times of terror strikes, it protects your business from IP address hacking.
Placed immediately after the DSL/Internet Bridge/Modem.
The first to receive internet traffic updating virus detecting intelligence continuously.
GreenXs variant is capable of connecting to two ISPs; can provide fail over and load balancing.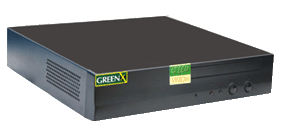 GOT QUESTIONS ?
If you have any questions related to Extreme Performance Computing, feel free to ask us.